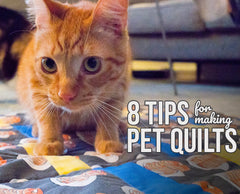 The dogs and cats who live in our homes are beloved family members…who (let's be honest) lick the floor, roll in dirt, and chew up our favorite socks.
Quilts take hours, and fabric isn't free. So how do you make a quilt worthy of the affection you feel for your cat or dog who is also still...you know...an animal?
The secret is finding the sweet spot. Make the quilt simplified in key ways, with just the right amount of special touches. Follow my tips below for making the perfect pet quilt every time.
1. Keep It Simple
Don't go overboard with complicated piecing. Instead, make it personal by choosing fabrics that suit the pet. Is the animal playful, classy, delicate, mischievous, or tough? Go with that feel.
2. Think Small
A Chihuahua doesn't need a full-sized quilt. Make it big enough to snuggle with but not take over the room.
3. Get Scrappy
I know you have a stash. Use it! Pet quilts have tons of room for playfully mismatching fabrics.
4. Cut the Border
A quilt border adds a beautiful frame to a bed quilt. But is it necessary for a pet quilt? Skip the border to save time and money.
5. Straight and Narrow
No need to get fancy with the quilting. Snap on your walking foot, slide on a spool of fun thread, and lay down some straight lines.
6. Skip the Binding
There are more ways to finish the edge of a quilt than with a binding. See how I finished my son's Cuddly Quilt for a time-saving alternative.
7. Make It Soft
Cuddle or Minkee on the back is irresistible — for both the pet and the owner.
8. Most Importantly, Embrace the Imperfections 
Was one block accidentally sewn upside down? Corners not matching? No sweat! Your furry friends won't mind! 
So go ahead, have some fun. Your pets will love it!
Maybe quilting isn't your thing? Order a custom quilt for your special pet.
These adorable cats are Flapjack and Bird. Photos by Josh Engen.