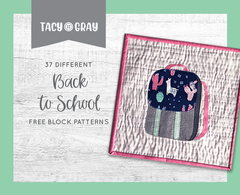 When I was in ninth grade, my family moved to a new home. That summer, I remember stretching out in the hammock in the back yard.
While a book sat unopened on my lap, I watched as sunlight peeked through the trees and listened as the leaves whispered in the breeze.
My boys have been enjoying this summer in their own ways. Elaborate LEGO creations cover every inch of bedroom floor.
Bike/scooter/skateboard rides around the neighborhood are our daily outing. They both have their own hiding spot for sticks, for no reason that I can figure out.
They don't realize it yet, but the start of the school year is just around the corner - a time of fresh starts and new challenges.
I'll start talking to them about school soon, but for now I want them to enjoy these carefree days.
To help you get excited about back to school, I've teamed up with some other pattern designers to give you 37 school-themed quilt block patterns for free!
Click the links below to grab your gifts.
I hope you enjoy the rest of your summer, whether you're exploring nature, playing with toys on the floor, or sewing a fun new project!
Free Quilt Block Patterns: 
Backpack by Tacy Gray