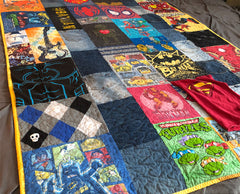 Year-round school is amazing. Four times a year, my son has a few weeks off. He and I get to hang out, watch movies on the couch with the dogs, ride bikes, and eat lots of ice cream.
During this break, we decided to take on a project. We cut up all his toddler and kinder clothes (he was super hero obsessed!), and turned them into the most precious quilt. It's heavy and soft and full of all my favorite memories. 
And best of all, during his next break, we have a new quilt to watch movies under.
Take a look at the details, including hoodie zippers, jean pockets, and capes that still fly. Hands down, this is way better than a box of old clothes in the back of the closet!