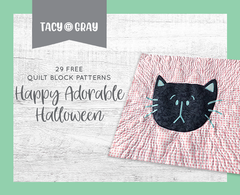 Celebrate the spooky holiday with 29 free quilt block patterns
The first Halloween I can remember, Minnesota had a blizzard for the history books. Over the next four days, snowfall accumulated to an unbelievable 37 inches.
That night, my brother and sisters and I got dressed up in our costumes, put our winter coats, snow pants, boots, hats and mittens on OVER the costumes, and waded out onto unshoveled sidewalks.
Needless to say, our candy haul was nothing to brag about.
Years of bitter cold Halloween nights have led me to embrace a more cozy (read "indoor") Halloween.
Think of chocolate chip cookies baking in the oven, Garfield's Halloween Adventure on the television, and piles of quilts and dogs on the couch.
So the quilt block I've designed for #QuiltBlockMania is a nervous little kitty who could really use a cuddle. Download this pattern for free and make your own adorable Halloween quilt block.
Then click the links below to find even more free Halloween quilt block patterns from my #QuiltBlockMania friends -- enough to make your Halloween quilt in any style you prefer.
29 Free Halloween Quilt Blocks  
Scaredy Kitty by Tacy Gray
"Which Hat?" at Pretty Piney
Black Cat at Inquiring Quilter
Ring of Pumpkins at Always Expect Moore
Haunted House at Powered by Quilting
Three Treats at Sew Brainy
Bat at Slice of Pi Quilts
Day of the Dead Skull at Duck Creek Mountain Quilting
Gypsy Wagon Fortune Teller at Orange Blossom Quilt
Monster at Seams to be Sew
Patchwork Pumpkin at Quilted Diary
Stacked Pumpkins at Perkins Dry Goods
Spooky Star at Block of the Mo .com
Leaf Ghost at Off the Wall Quilt
Leaf and Vine at Quilt Moments
Frankenstein at Around the Bobbin
Bat by Heidi Pridemore
Candy Corn by Quilt Fabrication
Dark night by Cotton Street Commons
Pumpkin by Sew on the Go
Pumpkin and Bat by ScrapDash
Pumpkin Chain by Stash Bandit
Happy Jack-o-lantern by Patti's Patchwork
Foundation Pieced Eyes by Amarar Creacions
Spooky Trees by Aunt Em's Quilts
Upside Down Witch by Appliques Quilts and More
Sun-Boo-Net Sue by Blue Bear Quilts
Spider by Oh Kay Quilting
Candy, Pumpkins, and Witch Hat by Utah Quilt Appraiser