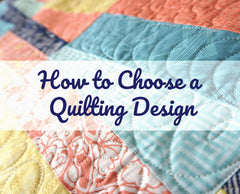 From day one, you've been the master designer of your quilt. You spotted a pattern that intrigues you, or a fabric you can't put down. You carefully cut, and seam by seam you brought your vision to life.
And then it's ready for quilting.
With hundreds of designs to choose from, it's not always easy to decide how to finish your work of art. Each quilt has its own personality and its own story. "One size fits all" never applies.
Over the last 15 years, I've quilted over 3,000 quilts (give or take a few hundred!) Choosing a quilting design is the most rewarding part of the process for me. The right design can draw out a quilt's personality. When I get it right, and my client sees it for the first time, it's like they're seeing a long lost friend.
Here are my five favorite ways to sift through the endless possibilities and pick the best design for each unique quilt. Bookmark this page for the next time you find yourself stumped with an unfinished quilt top.
Showstopper or Supporting Role?
Take a look at your quilt.  Would you like the quilting to add significantly to your quilt's design? Or do you want your piecing and fabric to be the focus? The quilting design you choose can be subtle or dramatic. Thread color that either blends or contrasts is another consideration.
Motif or No Motif?
Are you making a Christmas quilt? Try a poinsettia design. A wildlife quilt? A design with feathers, leaves or trees are just right. Is your quilt for a young girl? She might like a paisley design. You get the idea. Or you may decide that a non-specific design like loops or swirls are better for your quilt.
A Little or a Lot?
Looser quilting is a more casual way to go. It allows the loft of the batting to remain full, making it the best choice for high-loft batting, or if you're using a layer of wool batting. (Always keep in mind the limits of your batting when deciding how far apart to quilt.) On the other hand, dense quilting can to look more modern and sophisticated. 
Soft and Graceful? Sharp and Energetic?
Quilting designs have their own personality. Check out the curves and the points. Lots of points to add energy and excitement to a quilt; great for a quilt with pinup girls or bright colors. A design with plenty of curves is soft and sweet for a receiving blanket or shabby chic couch throw.
Go with your Gut
Bottom line is, there's no wrong choice. Never let uncertainty stop you from finishing a quilt. Trust yourself, choose something you like, and you'll have a beautiful quilt to curl up with.
Want Professional Quilting?
Maybe you have a quilt that needs a special professional touch. Learn about my quilting services and request a consultation.