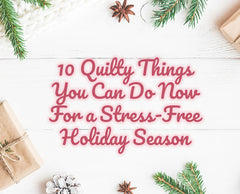 Whether you're embracing cooler days or still feeling the summer heat, the holiday season will be here before you know it. This time of year is notoriously hectic, stressful, and expensive. But, my quilting friends, it doesn't have to be! Here's what you can do now to gift yourself a smoother holiday season.
1. Make a List 
How many handmade gifts do you want to give this year? First, be reasonable. Remember that a small thoughtful gift means more than a impersonal elaborate one. Then, make a list and get started now.
2. Declutter and Repurpose
Now is the perfect time to clean out your sewing room and discover some forgotten projects. Dive into your fabric stash. Can you use up those leftover amounts of colored thread? Maybe there's a quilt top sitting in your closet that a family member would love. What about some half-finished projects? Or take a box of supplies to a local charity group. Feel better with a pared-down stash, and get a jump start on your projects.
3. Get Organized
Now that you've decluttered your sewing space, take the time to organize your stash so you can find things easily. Make space for each project and keep all the pieces together. Project bags and storage cubes are a quilter's best friend -- especially ones that let you see what's inside without unpacking them.
4. Watch for Sales
Now that you've decided what to make and know what you have on hand, you're ready to shop. With a little extra time to hunt, you can save a lot. Browse the clearance section for fabrics your friends and family members would like. Cash in your loyalty points. Keep an eye out for sales at your favorite quilt shop.
5. Shop Online
Avoid lines and get a jump start on your holiday buying by shopping online now. Snatch up some fun gifts for your quilting friends. You can even wrap them early! How's that for stress-free?
6. Double Up on Patterns
Consider using the same pattern for multiple projects. Cutting all at once, and sewing assembly-line style, will speed up the whole process.
7. Let Go of the Idea of Perfection
We all know this, but it's easy to forget. We don't need to stress over perfection. You're the only one who will notice the lopsided meander or the skipped stitch in the corner.
8. Make Time for You
Take a walk around the block, schedule a massage, splurge on your favorite bottle of wine, or take a yoga class. Your projects will wait patiently, and you'll come back feeling refreshed and energized.
9. Plan Time for your Quilter
This time of year is the busiest for your long arm quilter. If you're giving quilts that you won't be quilting yourself, drop off your quilt tops now to get ahead of the holiday rush.
10. Get Social
If your holiday prep becomes an overwhelming chore, call up a friend, join an open sewing day at your local quilt shop, or find a Quilt-Along on Instagram (#quiltalong). You'll quickly remember that the people we spend our time with is much more important than the things we accomplish.