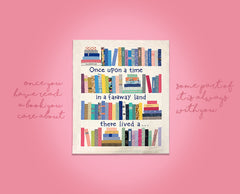 "Once you have read a book you care about, some part of it is always with you."
This quilt is a deeply personalized gift from a grandmother to her young book lover, showcasing the stories that have shaped who she is like only a good book can do. 
You can find this adorable quilt pattern free on Moda's blog here:  "Read with Me" pattern by Melissa Corry. I followed a lot of the pattern writer's cues for the quilting designs, and it turned out like something from a fairy tale!
Quote is from Louis L'Amour.