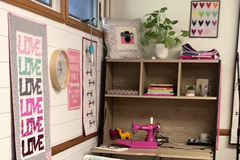 Today I'm squeezing in a couple sewing projects before the Thanksgiving cooking and baking begin. With a shop full of my clients' unfinished Christmas gifts, my long arm has been quilting up a storm. 
Peek inside my studio to see a day in the life of a professional quilter.
Get your quilt tops to me by December 3, 2022 for guaranteed completion by Christmas.
Have a happy and full Thanksgiving.
xo,
Tacy