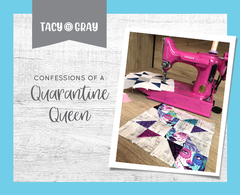 From riding high, to crash and burn, to solace in scraps
I thought I'd gotten the hang of life and parenting in COVID times. 
Throughout the summer, I had taught the kids some new chores and they were helping out around the house. I was exercising in the morning and meditating at night. I was sewing every day, quilting for clients, and working on new patterns.  
I felt like the Quarantine Queen. 
Until virtual school started. 
Two kids in virtual school is like juggling fire to help them get into their live classes on time, figure out when to make lunch, and find where to check on homework. 
And once things begin to catch fire, everything was up in flames. My routine vanished. I was too tired to exercise, and I lost my quilting time. 
Now commencing: crash and burn
After a couple days of this, I knew I needed to restore my inner self. 
I began going into my sewing room, even on the days I didn't have time to sew, just to touch the fabric I had on hand.
Picking Up the Pieces
As I did, I found in these scraps memories of earlier times and special relationships. 
To savor these memories, I began turning the scraps into blocks for my new quilt pattern, Leftover Night.
I found harmony in the fabrics as they came together to create something new. And watching the stack of blocks grew reassured me that I wasn't standing still.  
I began to feel grounded again.  
When I began designing my Leftover Night pattern last year, I had no idea a pandemic and quarantine were coming, and how much I'd need this pattern to connect me to myself during this challenging time. 
Looking for a bit of solace in your scraps, like I did? Grab my Leftover Night scrappy quilt pattern today! 
xo,
Tacy
P.S. Don't miss early access to all my patterns! Join my VIP list to stay in the loop.