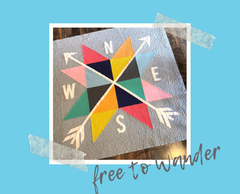 "I am free to wander. Heading in the right direction. Not all those who wander are lost."
- J.R.R. Tolkien
Until today, I'd known this quote only as "not all who wander are lost," a pretty phrase lettered above a camping design on a throw pillow.
I love the full quote. More than simply refuting a negative, it gives permission to explore in the moment without having to run straight into the future.
Plans are great. But they can be overrated. This quote gives us the freedom to be in the moment, without needing a plan or direction.
I love this quilt, too, for it's hopeful confidence. Amy chose clear solid fabrics against the white arrows. The equally bold custom quilting design highlights the quilt's shapes and personality.
Have fun and wander lots, Amy!