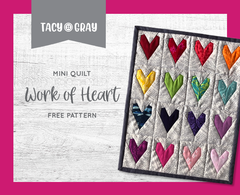 When you open the lid on a box of chocolate hearts, do you read the card to know what you're biting into? Or do you embrace the surprise?
Whatever your chocolate-eating style, variety and surprise are both key elements of creativity.
Isolating during a pandemic is tough on creativity. There are definitely days I feel isolated, bored, and uninspired. 
Enter the "edge effect" theory. 
Scientists have found that innovation is more likely when diverse ideas come together. 
When we spend time getting to know people from different backgrounds, our minds are more inspired to dream up fresh ideas. 
After all, creativity is all about thinking outside the box.
Free Mini Quilt Pattern
Like a box of chocolate hearts, variety and surprise make our lives bright and colorful. 
My "Work of Heart" mini quilt will remind you to embrace the different people in your life and cherish our differences. 
How to Foundation Paper Piece
Want to see how this quilt is made? Watch my step-by-step video tutorial.