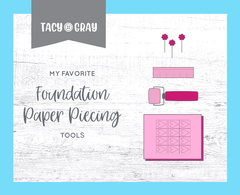 Learning new things is hard.
I totally get it.
When you finally have time to sew for a bit, the last thing you want is frustration, errors, and more ripping than sewing.
But on the other hand, it's easy to get into a creative rut by doing the same thing over and over.
I've been there too.
Maybe you've been doing traditional quilting for years. Maybe you've been wanting to learn to sew. Maybe you're an innovative artist and don't want to make quilts like Grandma's.
Enter Foundation Paper Piecing, or "FPP."
FPP is your new BFF. Because of the way the patterns are designed, they can be super playful and one of a kind. No more boredom!
And once you get the hang of the process, you settle into a rhythm and watch the block emerge as you sew. Nice and easy!
The right tools make FPP even more fun and easy.
After taking dozens of FPP classes and trying dozens of different patterns, I've landed on a flow that really ... well ... flows. 
A big part of this flow is the tools.
Here are My All-Time, Must-Have, Can't-Live-Without FPP Tools
What's Next in Your Foundation Paper Piecing Adventure?
See any you're missing? Grab them here. Or better yet, take home my Foundation Paper Piecing Starter Bundle.
If you haven't yet, check out my step-by-step video tutorial on how to Foundation Paper Piece.
Then give it a try with my free Work of Heart Mini Quilt Pattern: