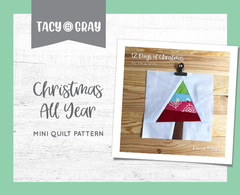 "Next year I'll be ready for Christmas on time!"
Sound familiar?
I do make plans. I have good intentions. I even get started in early November.
Then starting Black Friday, I see so many adorable projects to make. But I never have time to finish them before Christmas.
What is a quilter to do?? 😩
Meet my newest pattern, 12 Days of Christmas, a cutie you don't have to finish by Christmas.
About 12 Days of Christmas
Block of the Month Pattern
Make just one block each month, and next year you'll have a modern Christmas wall hanging to enjoy the entire season. Here's how it works:
Purchase the pattern now, and receive Block 1 as an instant download. (You can totally make one block this month!)
Then each month you'll be emailed the next block pattern. 
In November 2021, you'll receive Block 12 plus finishing instructions. 
Amaze your friends with the Christmas quilt you "whipped up." (Your secret is safe with me!)
Foundation Paper Piecing
Every block uses Foundation Paper Piecing, one of my favorite techniques for making quilt blocks. It's is a fun way to create unique and modern quilts. 
Need a refresher on Foundation Paper Piecing? Check out my tutorial: How to Foundation Paper Piece the Easy Way.
Treat Yourself
My five-year-old son helped me brainstorm block ideas, from a snow boot and a knit hat, to a gift-wrapped package and a stocking.
These blocks celebrate everything we love about this cozy, sparkling holiday.
I can just hear the jingle of little bells!
Follow along with other quilters working on the project, with the Instagram hashtag #TacyGray12daysofChristmas.
Together, we'll embrace a little Christmas magic throughout the entire year.
So pick up some Christmas-colored scraps, hop over to my shop, and treat yourself to an adorable quilt you can finish in a breeze!