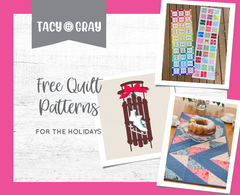 Slow-motion pandemic year is nearing an end, can you believe it?
The days are getting shorter, and the weather is cooling. At the Gray home, we're all about the cozy sweaters, candles, and baking.
Oh, and quilts.
And gifts! Our living room is starting to turn into gift-wrapping station, and I couldn't be happier.
With the spirit of giving, I have a new energy to sew for my friends and family. But of course the projects need to be quick and cute.
Take a look at these free quilt patterns you can download today for free.
They're all designed by talented friends of mine, so be sure to check them out and show these women some love.
Until next time, stay crafty, stay cozy. 
xo,
Tacy