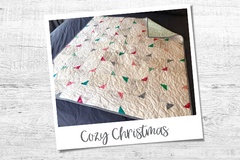 Craving a Change
Since the pandemic began, it seems we've all been rethinking our lives in one way or another. This is especially true this Christmas season. I think we're all craving less busyness and deeper connections now more than ever.
In podcasts, web articles and social media posts, I'm seeing new ideas for refreshing traditions. Some people are avoiding stores this year for health reasons, or to opt out of the holiday chaos.
Others want to give extra special gifts so they are turning to handmade, either crafted by themselves or a local artist.  Some are focusing on more sustainable gifts by buying secondhand.
 
What does your Holiday look like this year?
Whatever change you're craving this year, it'll take a little creativity and probably some patience to redesign your Christmas.
While you're seeking ways to bring deeper meaning to your holiday, take the time to dust off your sewing machine. Pull out your favorite quilt pattern, or check out my pattern shop.
Sustainable, Thoughtful Gift-Giving
My quilt patterns can be downloaded instantly and printed at home. Most of them are scrap-friendly, so you can shop your stash to make a more sustainable gift. And of course, a handmade gift feels good for you and your loved one.
Instead of fighting crowds and traffic, let's all spend this weekend making our sewing machines hum. Doesn't that sound cozy?