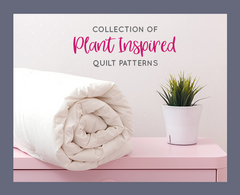 I've always been better at crafts than keeping plants alive. Maybe you can relate?
But last year changed that. Being cooped up inside an apartment during lockdown made me want to bring some outdoors in.
So I bought a Sansevieria at the grocery store.
Caring for this plant, watching it grow and flourish, was so rewarding that I totally caught the bug. Now I'm a proud plant mama.
And because everything I do is filtered through the lens of quilting, here are some of my favorite plant-inspired quilts! If you're a plant lover too, I know you'll find your next project here.
Plant-Inspired Quilt Patterns
 
Smarty Plants by Hissyfitz Designs

Bloomin' by Hunter's Design Studios

Bird of Paradise by Kohatu Patterns

Mary's Contrary Garden by Tamarinis
Dogwood Dreams by Flying Parrot Quilts
Cultivate by Lizard Creek Quilting
Trees from the Forest by Magic Little Dreams
Cabin Leaves by Cut Loose Press
Rococo Gardens by Patchwork Posse
Pollinator Blooms by Felice Quilt Designs
Spring Flower by Southwind Designs
Perennial Beauty by Phoebe Moon Designs
To Plant a Garden by Blueberry Backroads
Spring in the Suburb by Quilt Fox Design
Orchid Quilt Block by Always Expect Moore
Botanicals by The Crafty Nomad
Carrots & Peas by GeoQuilt Designs
Colleen's Garden by JoAnn Hoffman Designs
Berry Picnic by The Inquiring Quilter
Whimsy by Tourmaline & Thyme Quilts
Sarah's Succulent Sampler by Sarah's Softies
Pineapple Twist by Slice of Pi Quilts
Fall Harvest by On Williams Street
Holly Berries in the Snow by Kissed Quilts