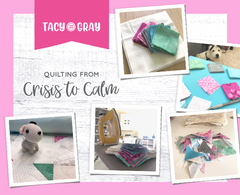 Here in Southern California, it's officially summer. School is out, the pool is open, and the grill is fired up!
For my kids, their full year (plus) of virtual school is over. I'm so proud of them for thriving during this strange year.
And I'm proud of myself.
This past year, I've risen to the challenge of a pandemic in ways I never thought possible. 2020 has forced me to rethink my habits and my values on so many levels: fitness, entertainment, family relationships and finances.
Even though it's been hard, I'm better because of it.
Now it's time to take a breath. And as I make my way out of crisis mode, I'm realizing how exhausted I am.
Cutting Corners Quilt Pattern
I designed my pattern Cutting Corners because I needed something calm and low-fuss and happy.
Seeing this quilt stitch together has been like a deep cleansing breath again and again. Every time I look at it, I feel my stability restoring.
Cutting Corners is a carefree, calming, colorful quilt pattern. It begs for your favorite colors, and is made by putting a twist on a basic quilting technique.
You can download yours today. I hope it brings you as much overdue energy as it's brought me. 
xo,
Tacy